JuaraGCP season 5 berhasil diselesaikan 😀 Alhamdulillah
Informasi JuaraGCP Season 5
Periode JuaraGCP Season 5 :
September 16, 2021 – September 26, 2021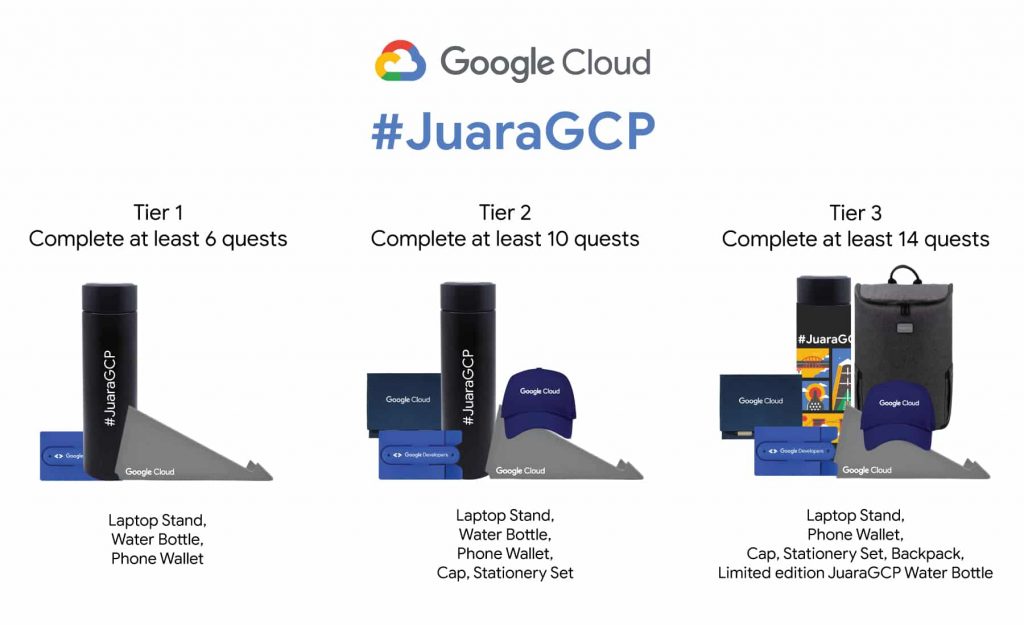 Berhasil menyelesaikan 14 quest berarti dapat Tier 3 nih 😀
Lalu quest apa saja yang gw kerjakan waktu itu?
Perform Foundational Data, ML, and AI Tasks in Google Cloud
Data Science on Google Cloud
Insights from Data with BigQuery
BigQuery Basics for Data Analysts
BigQuery for Marketing Analysts
Data Catalog Fundamentals
Exploring Data with Looker
Build and Optimize Data Warehouses with BigQuery
Create ML Models with BigQuery ML
Applied Data: Blockchain
Data Engineering
Engineer Data in Google Cloud
Scientific Data Processing
NCAA® March Madness®: Bracketology with Google Cloud
Secara garis besar sih belajar Machine Learning, Data Engineering, dan Data Science ya pada JuaraGCP (season 5) kali ini.
Konfirmasi Email Tier!
Hello Ariq,
Well done in completing #JuaraGCP. Hope it was fun learning Google Cloud Technologies. You will receive your swag to your doorstep within 5-9 weeks.

Note :
1. Only quests you completed within the dates of September 16 – 26, 2021 (dates incl.) and Quests mentioned in #JuaraGCP website were counted in determining the swag tier.

2. Please note that we would not be able to accommodate any change of address from your submission form. Thank you for your understanding.

Your swag tier is –Tier 3
Swags Update
6 Des 2021 dikirim email konfirmasi bahwa swags Tier 3 delay dikirim, okee
Congratulations on completing the Tier 3 swags!
We appreciate your patience while waiting for the swags. We are sorry to inform you that there is a delay in the swags shipment from our supplier, some of the swags delivery is expected to be done by the end of this year or on the first week of January. If you haven't received your swags by the first week of January, please email us to follow up on your package.

We will keep you updated.

Thanks!
#JuaraGCP Team
Update 09 Januari 2022 : Swags sampai , Alhamdulillah